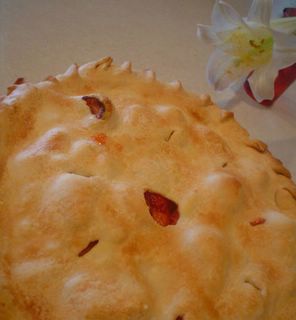 Strawberry Rhubarb Pie
...mmmmm!
unbaked pie crusts for top and bottom
1 and 1/2 pounds strawberries, cleaned, halved if large.
4 cups of rhubarb, chopped into half inch pieces.
1/2 cup brown sugar
1/2 cup white sugar
3Tbsps cornstarch
1 tbsp flour
juice of half a lemon
zest of half a lemon
1/2 tsp cinnamon
In medium bowl, mix together the fruit with the lemon zest, juice and sugars. Let sit for a few minutes until mixture starts to get "juicy". Then add the cornstarch, flour, and cinnamon. Mix together well. Place bottom crust in your 9 inch pie plate. Spoon fruit into pie crust making sure to scrape all the juice out of the bowl. Cover with top crust, making sure to seal the edges. Cut a few holes in the top crust for venting. Take some foil and wrap it around the edge of the pie to prevent over-browning. Bake at 400 for 20 minutes*. Then reduce the heat to 350, remove the foil and bake for 40 minutes. Let the pie cool and then put it in the fridge until chilled(unless you want it warm).
This usually produces a thick non-runny filling. That's the way my boyfriend likes it. I like it a bit messier with some nice runny juice. If I am making it for me, I will reduce the cornstarch to 2 tablespoons.
*Remember to place a cookie sheet on the rack beneath the pie so that it will catch any runnover juice.
** You can brush the top of the crust with a little egg replacer and sprinkle with additional white sugar. It's delicious.
I really should have taken a picture of this cut into pieces. But, uh well when I cut it, I just want to eat it and it's gone now! I've made it twice this week even!